Application
Air flotation method is widely used in the sewage treatment field in recent years. By using this method,
the light
floc
which is hard to be precipitated can be effectively eliminated.
Features
1.

Large capacity, high efficiency and small occupying space.
2.
Compact structure, easy operation and maintenance.
3.S
ilt expansion
e
limination
4.Aerate to the water while air floating, it has an obvious effect to the elimination of active agent and foul smell in water. Meanwhile, the
increased
dissolved oxygen provides a favorable condition to the follow-up process.
5.It can achieve the best effect in adopting this method when disposing the water with lower temperature, lower turbidity and more algae.



APPLICATION
1.Separation of oily(including emulsified)wastewater from petroleum,chemical and mechanical processes.
2.Recovery of sewage organic matter(such as recovery of pulp fibers and fillers from paper mill wastewater).
3.Treatment of wastewater with high chroma and low dissolved oxygen.Such as textile printing and dyeing wastewater treatment.
4.Treatment of oxide-rich wastewater containing algae.
5.Treatment of low temperature and low turbidity sewage.
6.Replace secondary sedimentation tank,suitable for the situation that is easy to produce sludge swelling;It is suitable for the concentration of residual activated sludge and convenient for the treatment of filter press.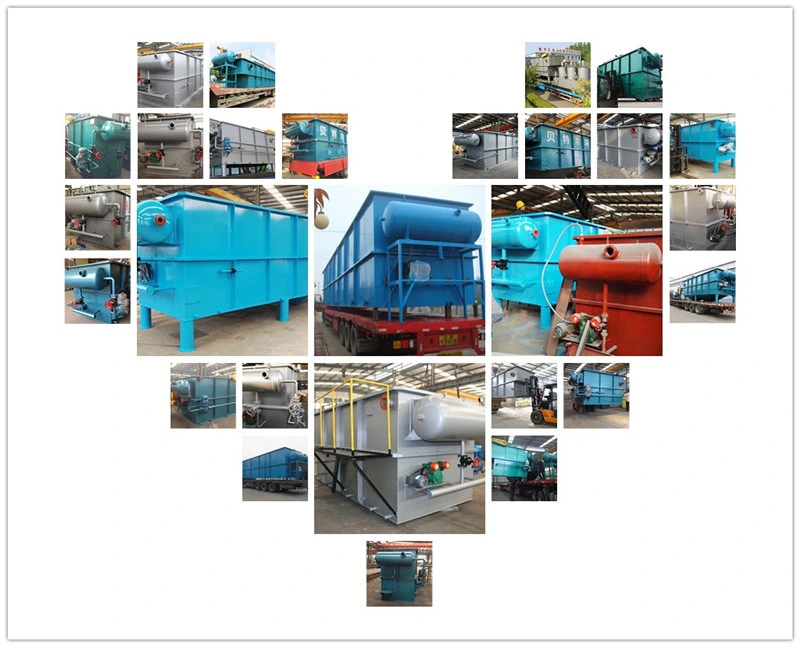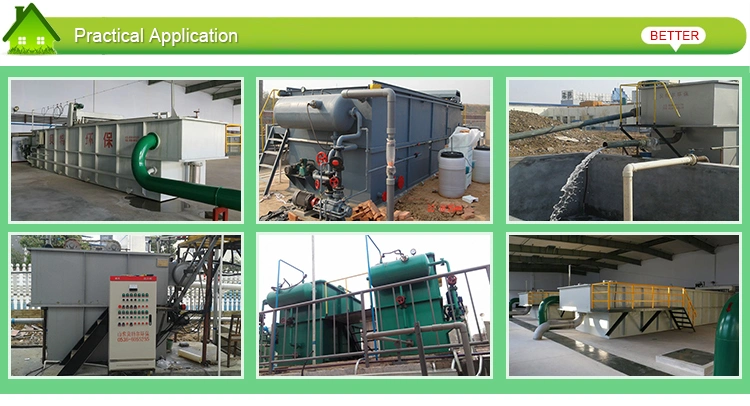 TECHNICAL PARAMETER
Model
Capacity
(m3/h)
Dissolved gas water
(m3/h)
Main dynamo power
(kw)
Foam scraper power
(kw)
Air compressor power
(kw)
Dissolved tank size
(mm)
Overall dimension
(mm)
YW-5
4-5
1.5-2
3
0.55
1.5
400*1000
3300*1800*2200
YW-10
8-10
2-3
4
0.55
1.5
500*1512
4000*2100*2200
YW-15
10-15
4-6
7.5
0.55
1.5
500*1512
4400*2400*2200
YW-20
15-20
5-7
7.5
0.55
1.5
500*1512
4600*2400*2200
YW-30
20-30
6-10
7.5
0.55
1.5
500*1512
5200*2600*2400
YW-40
30-40
8-13
7.5
0.75
1.5
600*1880
6000*2600*2400
YW-50
40*50
15*20
7.5
0.75
2.2
600*1880
7000*2600*2400
YW-60
50-60
18-27
11
0.75
2.2
600*1880
7600*2800*2400
YW-70
60-70
22-30
11
0.75
2.2
650*2034
8400*2800*2400
YW-80
70-80
24-32
11
0.75
2.2
650*2034
9200*2800*2400
YW-105
90-105
30-35
15
1.1
3
700*1980
10000*2800*2600
YW-150
125-150
60-80
22
1.1
4
700*1980
13500*2800*2600
YW-200
175-200
80-100
30
1.1
5.5
800*2100
15800*2800*2600
YW-250
225-250
100-120
37
1.1
5.5
800*2400
15200*3400*2600
YW-300
280*300
120*180
37
1.1
5.5
1000*2900
19200*3400*2800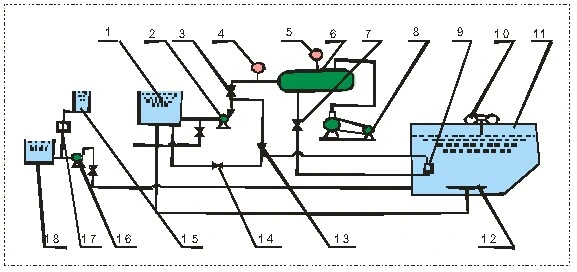 1.
C
lear water reserv
oi
r
2. Clear water pump
3.
C
ontrol valve
4.5. Pressure gage
6. Dissolved gas tank
7. Control valve
8. Air compressor
9. Releaser
10. Foam scraper
11. Air floating pond
12. Water collector
13. Jet device
14. Control valve
15. Dosing tank
16. Sewage pump
17. Flow meter
18. Sewage pond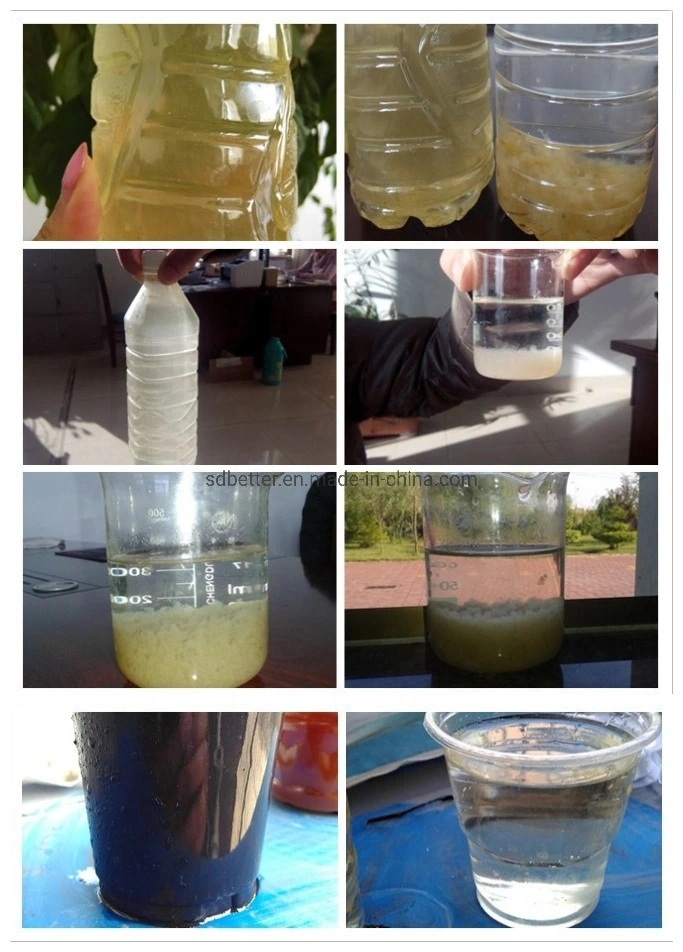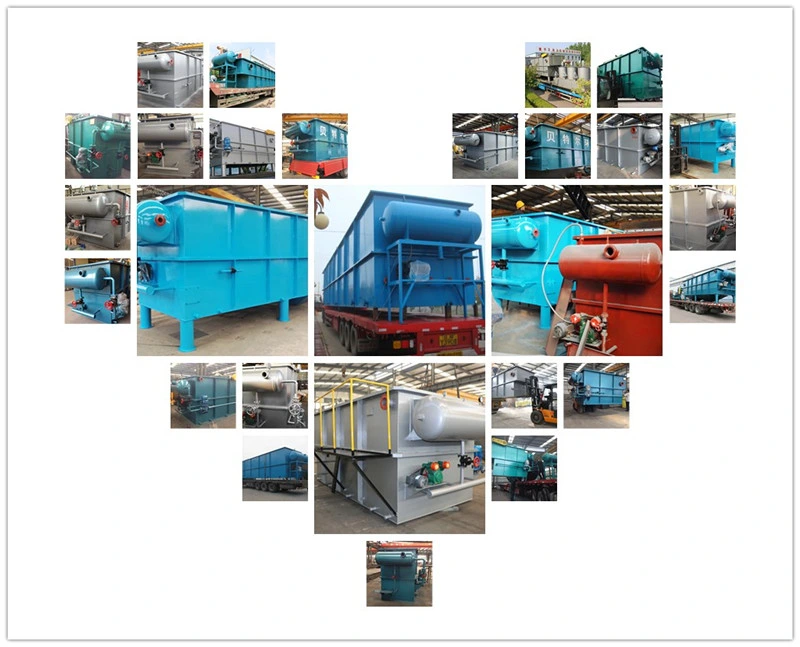 FAQ
1.Q:Are you a factory or trading company?
A: We are a factory, we have rich experience for manufacuring water processing equipment for more than 10 years.
2.Q:Where is your factory located? How can i visit there?
A: Our factory is located in No.1137 Guanhai road , Zhucheng City, Shandong Province, China. It is about 2 hours from qingdao airport. We can pick you up if you need, welcome to visit our factory.
3.Q: Do you have minimum order quantity request?
A: No minimum order, but it can get a discount if you order a large quantity.
4.Q: Do you have certificates?
A: Yes, we have ISO,SGS certificate.
5.Q: Can you meet my special requirements for my products?
A: Yes, we have a professional design team. We can provide drawings according to your requirements.
6. Q:How to buy your idea products?
A:You can provide us your water sources, water quality, flow rate and ground area (connect us for more details).
7. Q:How to pay?
A: TT and L/C are acceptable and TT will be more appreciated. 30% deposit before producing, 70% balance before loading by TT.
8. Q:What is the delivery time?
A: It depends on order quantities. Generally speaking, the delivery time will be within 4 to 6 weeks.
9. Q: How to pack the products?
A: We use standard package. If you have special package requirements, we will pack as required, but the fees will be paid by customers.
10. Q: How to keep your equipments from corrosion?
A: We use the world-famous paint, like SigmaCoatings,PainBow,etc. What's more, we paint strictly according to the standard process.
11. Q: How do you manufacture your equipment ?
A:Our machining technology includes laser/plasma cutting, automatic welding,CNC cutting and bending.
12. Q:How to install after the equipments arriving destination?
A: We will provide detailed illustrations to you. If it is necessary, we will send technicians to help you. However, the visa fee, air tickets, accommodation, wages will be paid by buyers.