Small footprint package membrane bioreactor industrial A2O waste water treatment plant
1. Integrated A2O system/plant/equipment/machine technology introduction
1.1.
Design scheme adopting international mature technology system for biological treatment of wastewater treatment technology,
AO2 technology is used to process, the organic combination of traditional biochemical treatment process, water quality purification
was achieved by step unit operation, cover an area of an area small, small tank, comprehensive water is better than the current
national standards, low content of suspended solids, less equipment, simple process, automatic control, stable and reliable running.
The overall energy consumption of the scheme is lower than that of the domestic equivalent type of treatment system. The water quality
is stable, the core parts have long service life, and the operation cost is low.
1.2
. Process of integrated WWTP(A2O)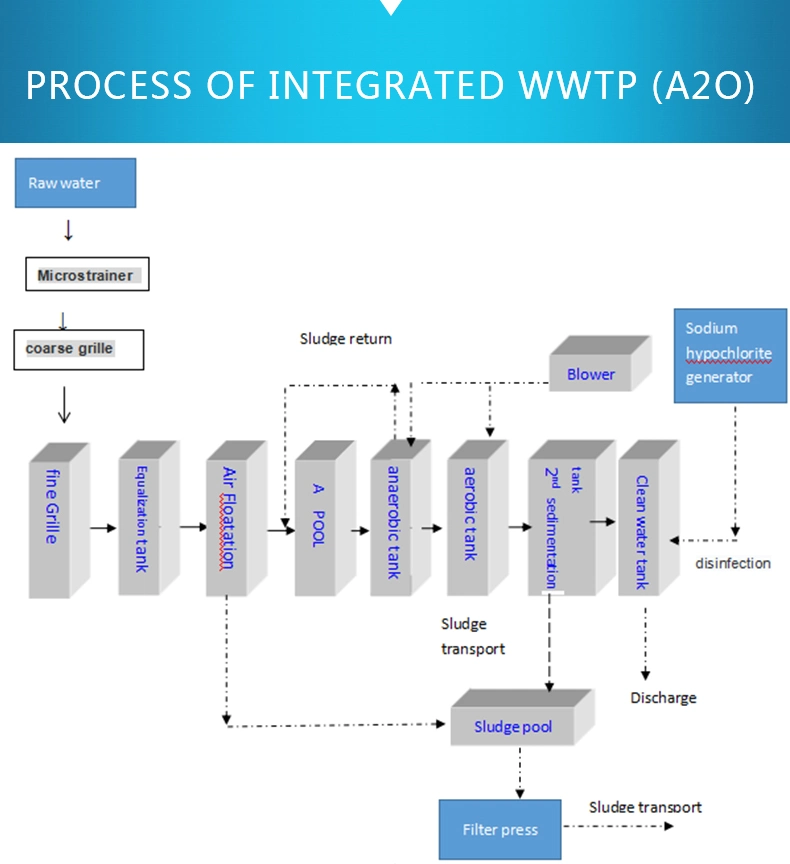 1.3.
About the Integrated A2O Anaerobic and Aerobic system/plant/equipment/machine design
We have a professional technician department who will study and design the
Integrated A2O
system by your requirements,
pls help to provide your detailed info. as more as better for us.
1.4. Specification
of

integrated WWTP(A2O)
Item

WSZ-5

WSZ-10

WSZ-15

WSZ-20

WSZ-30

WSZ-40

WSZ-50

WSZ-60

WSZ-70

WSZ-80

Capcity (M3.d)

5

10

15

20

30

40

50

60

70

80

Anoxic tank

0.55x1

0.55x1.5

0.75*1.5

1.15x1.5

1x2

1.1x2

1.4x2

1.5x2.25

1.85x2.25

2.1x2.25

Oxic tank

1x1x1.5

1x1.5

2*1.5

2.1x1.5

2x2

2.1x2

2.5x2

2.8x2.25

3.4x2.25

4x2.25

Sedimentation tank

0.5x1

0.45x1.5

0.75*1.5

1x1.5

0.9x2

1x2

1.25x2

1.3x2.25

1.6x2.25

1.8x2.25

Sludge tank

0

0.5x0.75

0.75*0.75

0.75x0.75

0.7x1

0.8x1

0.9x1

0.9x1.15

1.15x1.15

1.1x1.15

Clean water tank

0.45x1

0.5x0.75

0.75*0.75

0.75x0.75

0.7x1

0.8x1

0.9x1

0.9x1.15

1.15x1.15

1.1x1.15




Blower

Model

2HBH320H36

2HBH520H36

Qty

2

2

2

2

2

2

2

2

2

2

Power

1.3

1.3

1.3

1.3

1.3

1.3

2.2

2.2

2.2

2.2

Pump

Model

50WQ2-10-0.75

50WQ6-10-0.75

Power

STP Volume

L(m)

2.5

2.5

4

5

4.6

5

6

6.5

8

9

W(m)

1

1.5

1.5

1.5

2

2

2

2.25

2.25

2.25

H(m)

1.5

2

2

2

2

2

2.5

2.5

2.5

2.5
2. Qingdao Jinhuimo Company introduction:
Shandong Jinhuimo
Technology Co., Ltd. is a high-tech enterprise specializing in the research and development/production/application
/membrane technology and engineering design of hollow fiber membrane separation technology in China. we have a professional team of
nearly 20 years engaged in research and development of membrane technology and water treatment engineering application experience,
advanced ultrafiltration membrane module production capacity and large enterprise base. It has passed ISO 9001:2000 quality management
system and SGS certification.Country stock code :831623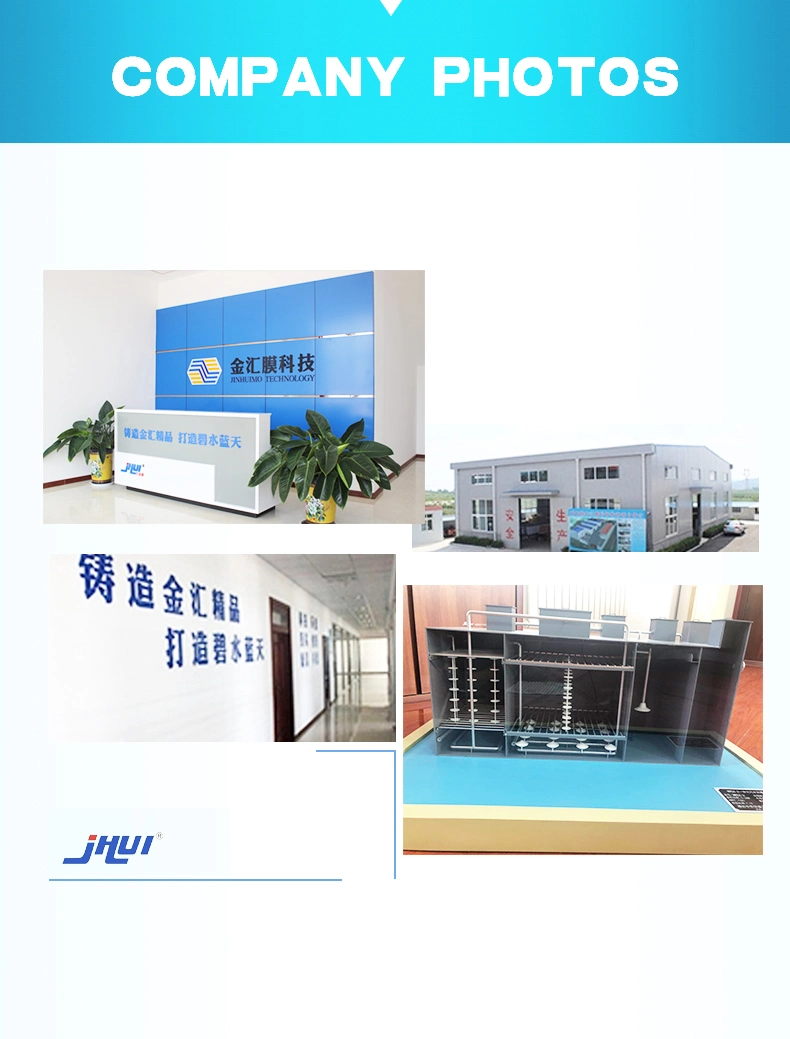 3. Integrated A2O Anaerobic and Aerobic
system/plant/equipment/machine application:
*Food industry: process water/ production water preparation/ sewage treatment.
*Beverage industry: process water/ production water/ concentrated separation treatment.
*Pharmaceutical industry: process water/ preparation water/ washing water/ injection water/ aseptic water preparation.
*Chemical industry: production water/ wastewater treatment/ water reuse.
*Power industry: boiler recharge water/ circulating cooling water.
*Electronics industry: semiconductor industry ultrapure water/ integrated circuit cleaning water/ formula water.
*Petrochemicals: oil field injection water/ petrochemical wastewater deep treatment/ chemical wastewater treatment and reuse.
*Desalination of sea water and brackish water: island areas/ coastal areas/ ships/ seawater oil fields/ etc. production/ domestic water.
*Drinking water engineering: pure water preparation/ drinking water purification/ water standard-raising.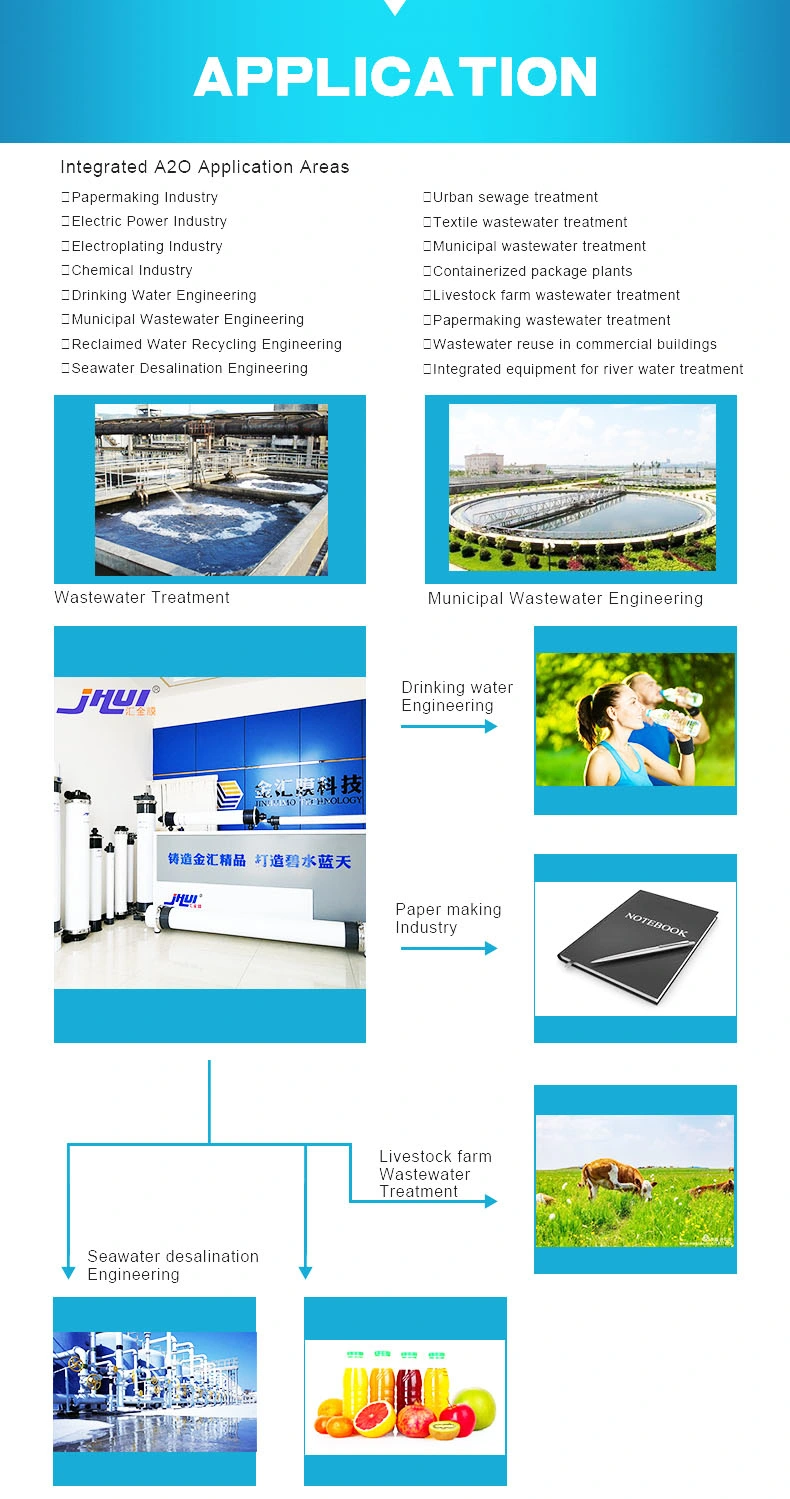 4. We Jinhuimo company mainly provide waste waste water treatment products:
4.1. UF ultrafiltration membrane;
4.2. UF ultrafiltration membrane system;
4.3. MBR hollow fiber membrane;
4.4. MBR hollow fiber membrane system;
4.5. Integrated equipment system(AO,AAO,MBBR.etc.);
4.6. Reverse osmosis(RO) membrane;
4.7. Reverse osmosis(RO) membrane system;
4.8. Moving bed biofilm reactor(MBBR);
4.9. Disic and tube air diffusers, etc.

5. Qingdao Jinhuimo company attended to international exhibitions listed in these 2 years:
In 2018, we attended to Russian, Malasia, Vietnam Water exhibition;
In 2019, we attended to Thailand, Pakistan, Indonesia, India water exhibition;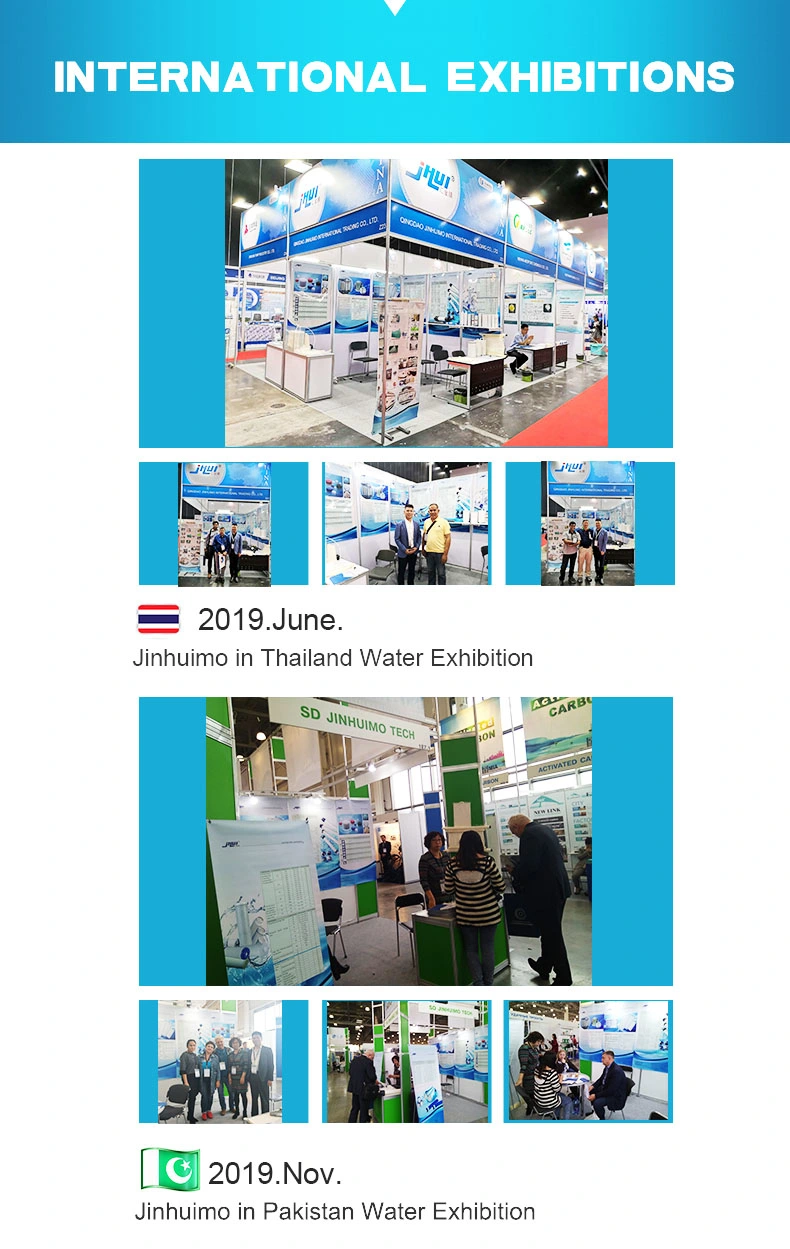 All we did is finding each other, if you need integrated A2O system/plant/equipment/machine
, warlmly welcome to contact with us!