UF Membrane Mbr Sewage Treatment System for Papermaking Industry
1. MBR membrane bioreactor system technology introduction
1.1.
Membrane bio-reactor ( membrane Bio-Reactor, MBR)
is a Membrane unit is introduced into traditional sewage biological treatment technology
of the new processing technology, Membrane separation unit in replace of traditional secondary sedimentation pool function at the same time, with
further removal of organic matter and nitrogen and phosphorus, is currently the most advanced and efficient water treatment technology.
MBR system for removal of organic matter from the water (NH3-H), ammonia nitrogen, total nitrogen and total phosphorus (TN). The user can according
to the requirements of combined anaerobic, anoxic, aerobic process, to achieve water requirements.
Our MBR System includes H
ollow Fiber UF Membrane MBR system and Flat Sheet Membrane MBR system.
H
ollow Fiber UF Membrane MBR system
i
s a
waste water
treatment system with MBR Bio-reactor as the core device, including raw water tank/ aeration device/ dosing device and backwashing
device, etc.
1.2.
Hollow fiber uf membrane MBR
System process flow: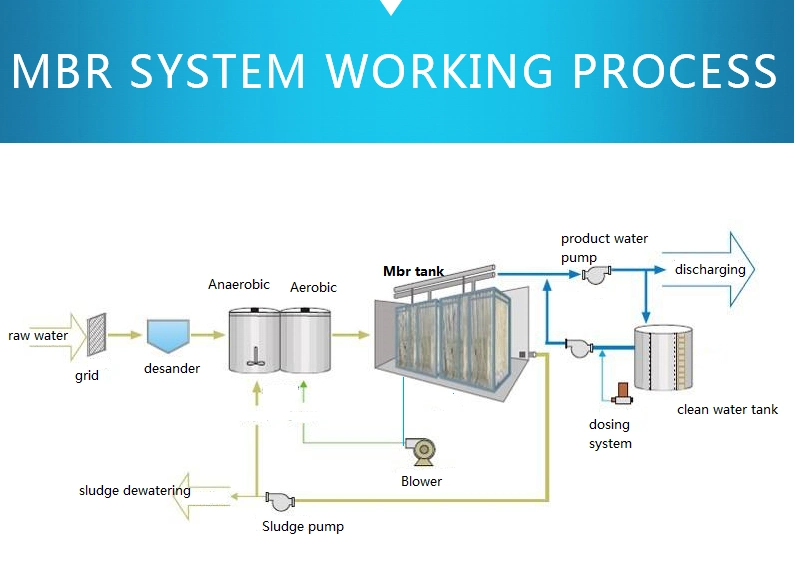 1.3.Jinhuimo MBR membrane operation parameters:
Model

JHM-MBR-1




BXLXW

JHM-MBR-2




BXLXW

Specification

630x1500x36

630x2000x36

ID/OD(mm)

1.5/2.6

1.0/2.2

1.5/2.6

1.0/2.2

Effective membrane area(m2)

15

20

Filtration precision(um)

0.1

0.034

0.1

0.034

Membrane shell material

ABS

Membrane material

PVDF&PET supporting tube

Connecting pipe specification

Φ

32

Catchment way

Both end of the catchments

Filter type

Immersion suction filtration

PH

2-12

Temperature(ºC)

10-45

Oil content(mg/l)

<3

TMP(Mpa)

0.02-0.05

Reverse flushing pressure(Mpa)

0.1

Aeration rate

Gas water rato 15:1-20:1

Allow sludge concentration(mg/l)

4000-12000

Design flux(l/m2·h)

10-40
1.4. Advantages of Jinhuimo MBR membrane bio-reactor:
1)JHM MBR membrane is high efficiency, especially capable in frequent disuse occasions;
2)A longer shelf life than other manufacturers;
3)Anti-oxidant modification on the in-let membrane surface makes it more durable in harsh environment like wastewater;
4)Fine inner diameter of the membrane fiber can ensure that sludge blocks the membrane pore the instant the fiber is broken accidentally,
endowing the membrane with self-repairing function without affecting outflow water quality.
1.5. MBR membrane system design
We have a professional technician department who will study and design the MBR membrane and system by your requirements, pls help
to provide your detailed info. as more as better for us.
2. Company introduction:
Shandong Jinhuimo
Technology Co., Ltd. is a high-tech enterprise specializing in the research and development/production/application
/membrane technology and engineering design of hollow fiber membrane separation technology in China. we have a professional team of
nearly 20 years engaged in research and development of membrane technology and water treatment engineering application experience,
advanced ultrafiltration membrane module production capacity and large enterprise base. It has passed ISO 9001:2000 quality management
system and SGS certification.Country stock code :831623.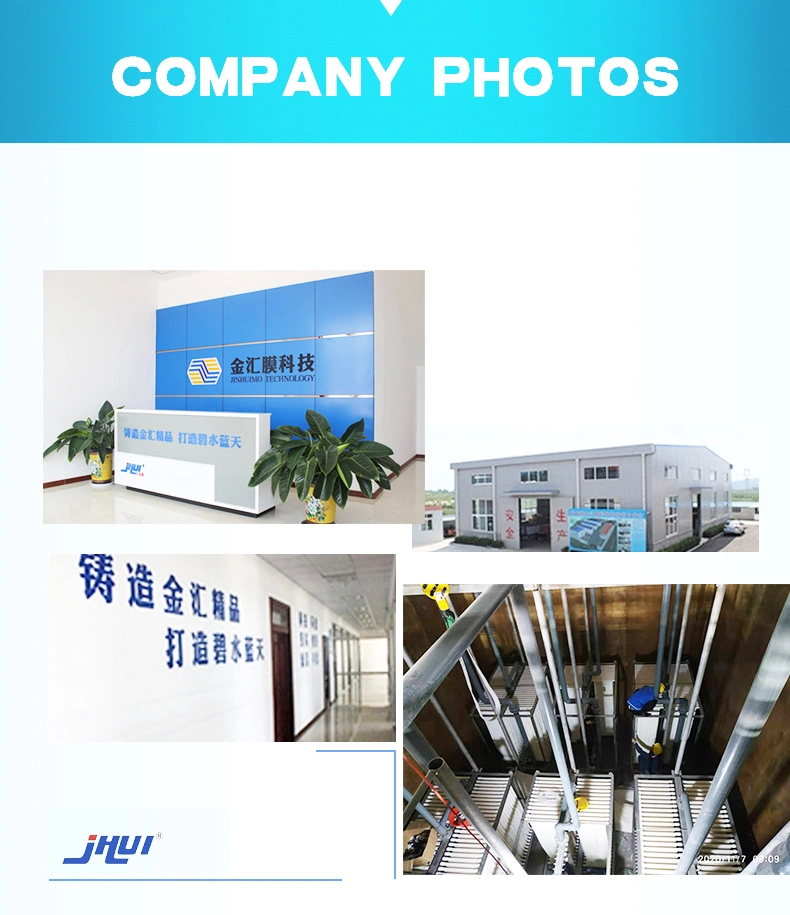 3. MBR curtain type hollow fiber membrane bio reactor system application:
*Food industry: process water/ production water preparation/ sewage treatment.
*Beverage industry: process water/ production water/ concentrated separation treatment.
*Pharmaceutical industry: process water/ preparation water/ washing water/ injection water/ aseptic water preparation.
*Chemical industry: production water/ wastewater treatment/ water reuse.
*Power industry: boiler recharge water/ circulating cooling water.
*Electronics industry: semiconductor industry ultrapure water/ integrated circuit cleaning water/ formula water.
*Petrochemicals: oil field injection water/ petrochemical wastewater deep treatment/ chemical wastewater treatment and reuse.
*Desalination of sea water and brackish water: island areas/ coastal areas/ ships/ seawater oil fields/ etc. production/ domestic water.
*Drinking water engineering: pure water preparation/ drinking water purification/ water standard-raising.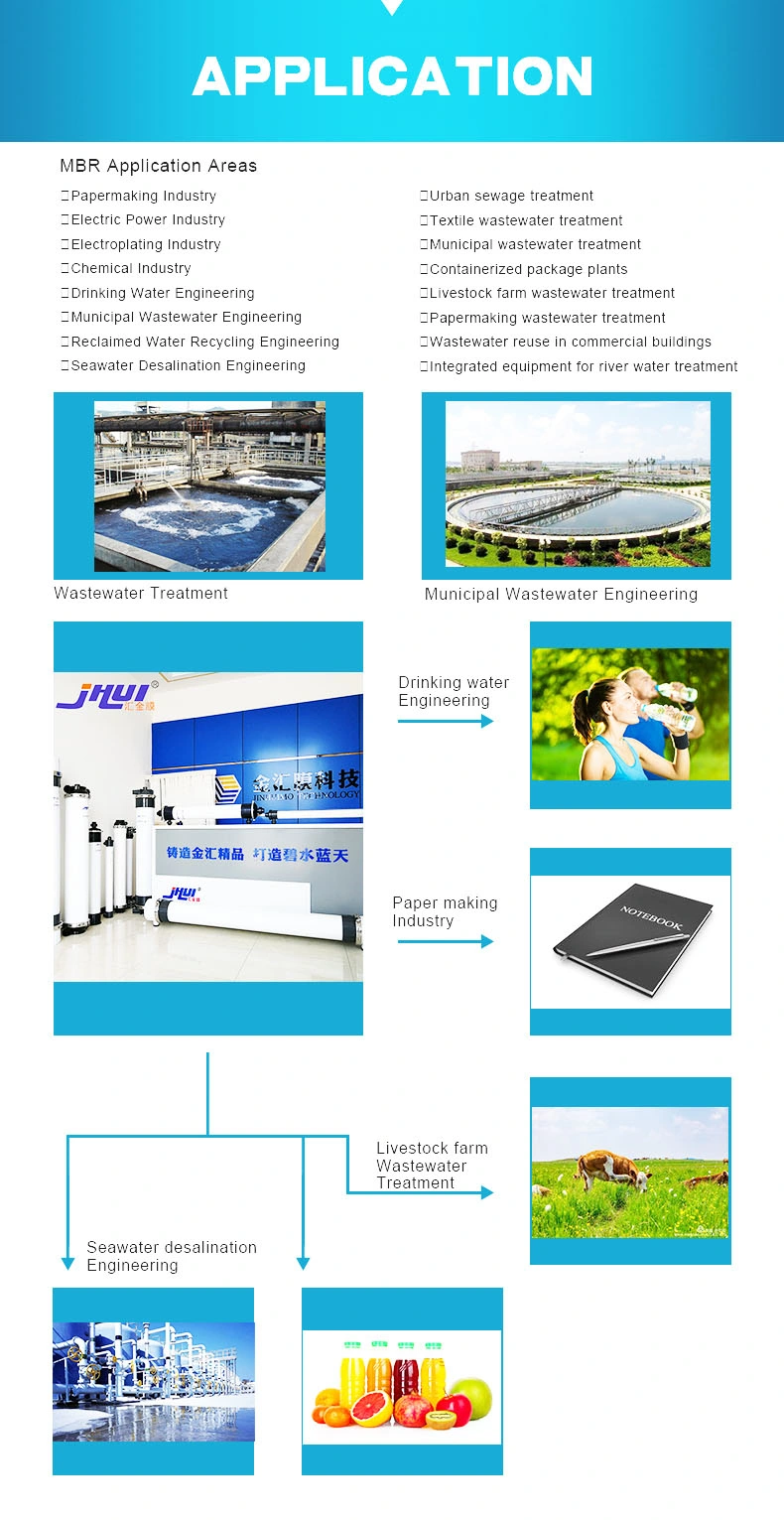 4. Jinhuimo list only three cooperation cases show for you: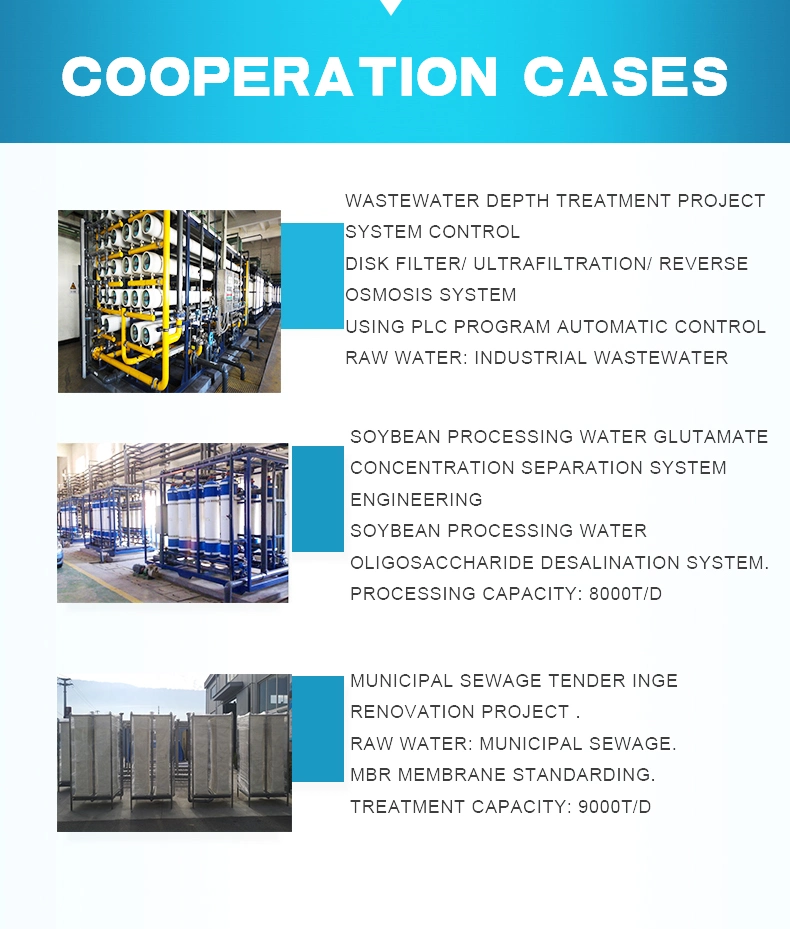 5.Jinhuimo mainly provide waste waste water treatment products:
5.1. UF ultrafiltration membrane;
5.2. UF ultrafiltration membrane system;
5.3. MBR hollow fiber membrane;
5.4. MBR hollow fiber membrane system;
5.5. Integrated equipment system(AO,AAO,MBBR.etc.);
5.6. Reverse osmosis(RO) membrane;
5.7. Reverse osmosis(RO) membrane system;
5.8. Moving bed biofilm reactor(MBBR);
5.9. Disic and tube air diffusers, etc.

6. We Jinhuimo company attended to international exhibitions listed in these 2 years:
In 2018, we attended to
Russia, Malasia, Vietnam
Water exhibition;
In 2019, we attended to
Thailand, Pakistan, Indonesia, India
water exhibition;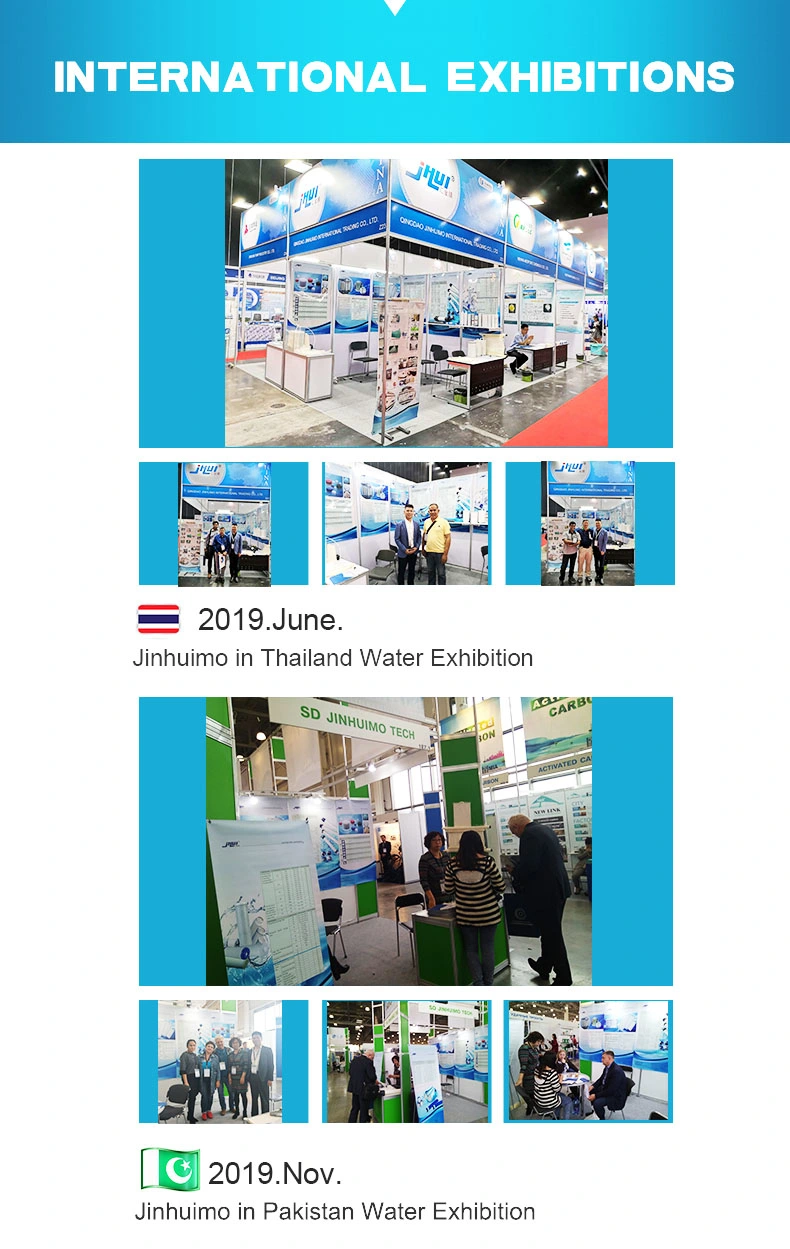 All we did is finding each other, if you need our MBR hollow fiber membrane or system, warlmly welcome to contact with us!