Solution Advice: Installation &. Operation Guide.
You can provide us the water sources, water quality, flow rate and ground area, material requirements about your project, then more technical solutions will be suggested to you.
Why choose us
1. We consistent good quality with reasonable price.
2. Big company, good reputation, more reliable.
3. Delivery in time.
4. Over 15 years' experience since 1991.
5.Considerable after-sales service.
Our Services
1.24-hour a day, 365-day a year access to a toll-free health care professional hotline for questions and trouble-shooting assistance FREELY.
2.all year round on site installation and debugging service abroad with professional engineer guide and training.
Packaging & Delivery
Packaging Details Seaworthy package
Delivery Time Within 20 days after receipt of deposit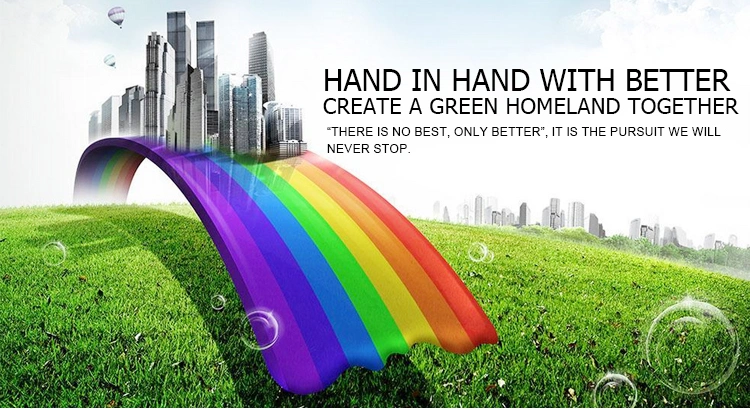 Treating capacity: 0.5-50tons/hour for your choose
Technical Parameter
Model
0.5
1
3
5
10
20
30
Capacity (m3/h)
0.5
1
3
5
10
20
30
Air blower
Model
HB-0.75
HB-1.1
HB-1.2
HB-4.4
HB-8.8
HB-11.5
Power
0.75
1.1
1.2
4.4
4.4*2
11.5
Pump
Model
40QW-10-0.75
40QW-10-7-0.75
50QW10-10-1.1
50QW25-7-1.5
50QW25-7-1.5
50QW42-9-2.2
Power
0.75-1.1
1.5
2.2
Inlet water
BOD5
mg/L
150-400
Outlet water
BOD5
mg/L
20-60
Floor space
4.5
6.5
12
15
35
51
76
*Remark: Our company can be based on the actual water quantity, water quality situation and the site of the non-standard design.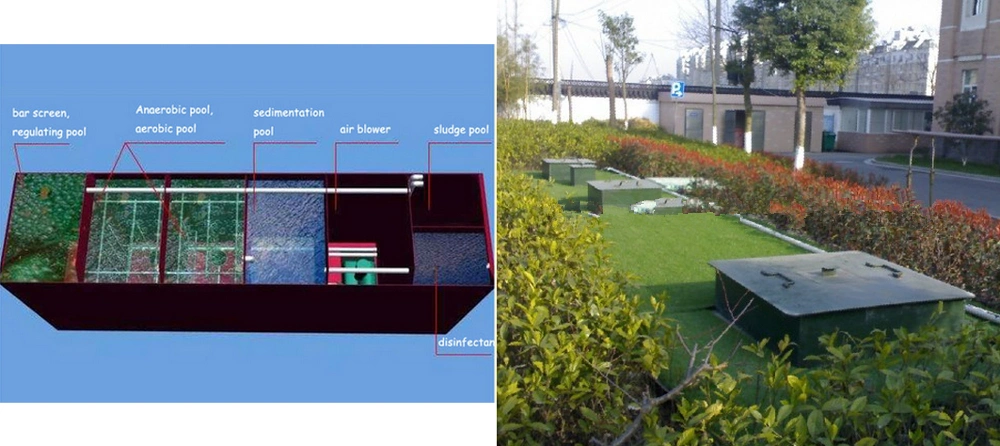 1.Characteristic
(1). WSZ type complete device for sewage treatment is buried underground and greening can be carried out to the surface above the equipment. It is not necessary to construct house, maintain heat and warmth retention. The anti-corrosion manufacturing can be carried out to the equipment with less than 5t/h water quantity by adopting the fiber glass or A3 steel board.
(2). The secondary biological contact oxidation treatment process adopts the blast aeration. The activated sludge owns small volume and excellent adaptability to water quality. The influent water quality is stable without producing sludge swell.
(3). The reaction tank utilizes the biological touch oxidation method and sludge discharge (the night cart is used for suction or dehydration for sludge cake for out transportation) needs carrying out for only three months (90 days).
(4). The whole treatment equipment does not need establishing professionals for management under general circumstance, and only maintenance is entailed for the equipment at the proper time.
(5). It owns quite strong adaptability to the change of the water quality with a small amount.
(6). The compressed container, air compressor, circulation pump and other equipment become unnecessary, therefore, the investment cost has been reduced dramatically.
(7). The power needed is low with fewer maintenance and artificial operation. ZWF is a process of oxygen exhaust and the odor problem produced by sludge has been resolved.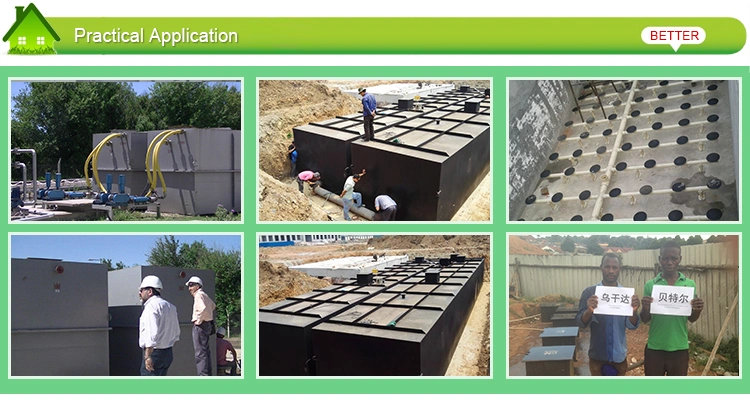 2. Usage
(1) The device can be used in treating the domestic sewage and related organic sewage;
(2) The device features easy operation, automatic control, it can be buried under the ground;
(3) Convenient maintenance, the working life can be more than 30 years.
3. Application
(1) Hotel, brewery, restaurant, sanatorium, hospital, school;
(2) Residence community, villa district, village, town;
(3) Station, airport, seaport and dock;
(4) Factory, mine, army, beauty spot;
(5) All kinds of industrial sewage similar to the living sewage, etc.
Shandong Better Enviromental Protection Technology Co.,Ltd,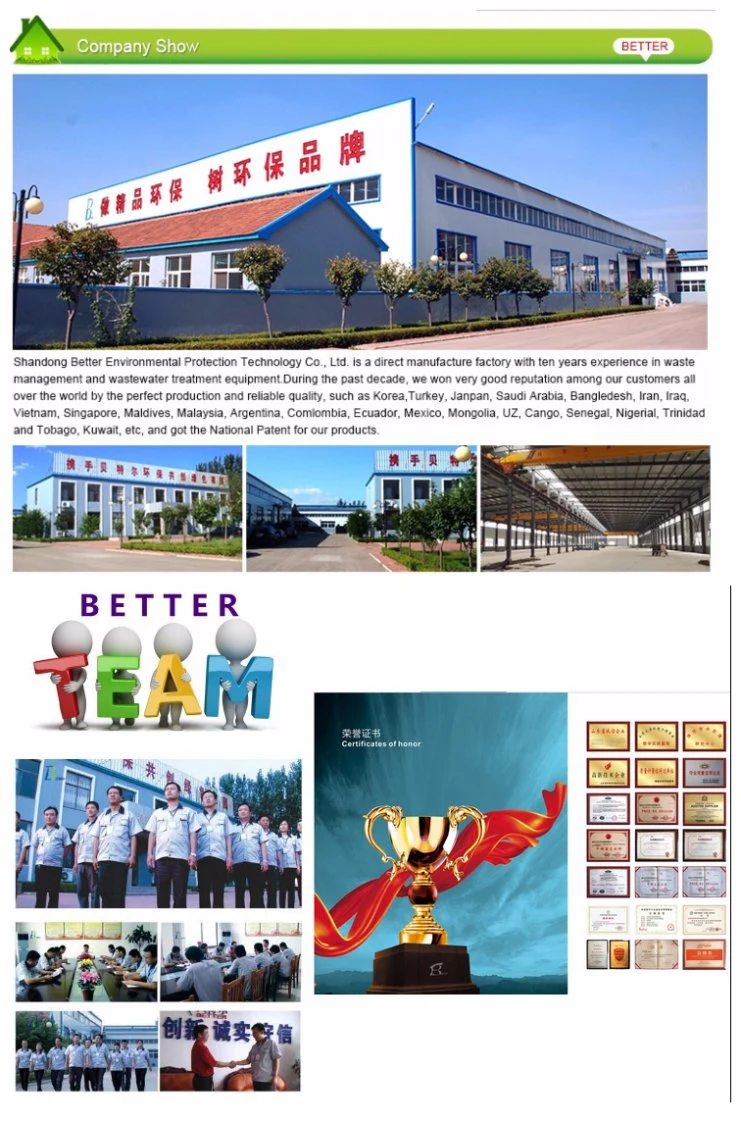 it is the largest environmental protection technology enterprise in Shandong Province, adopted the US technology,with experience over 10 years on machinery, during the past decade, we won very good reputation among our customers all over the world, ,Turkey, Janpan, Saudi Arabia, Bangledesh, Iran, Iraq, Vietnam, Singapore, Maldives, Malaysia, Argentina, Comlombia, Ecuador, Mexico, Mongolia, UZ, etc, and got the National Patent for this product.
We are the sewage and waste treatment industry expert.

Contact infromation
Shandong Better Environmental Protection Technology Co., Ltd
Contact person
Cindy
CHOOSE BETTER, FOR BETTER ENVIRONMENT,
YOU DESERVE IT!
THANK YOU!
Job Title
Foreign trade manager
Moblie
+86 17616703279

Address



Guanhai road #1137, Zhucheng City, Shandong Province, China