Product Description
Solid Liquid Separation Equipment Electroplate Sewage Belt Filter Press Machinery with automatic press cloth cleaning device

is mainly composed of a driving device, a frame, a press roll, an upper filter belt, a lower filter belt, a filter belt tensioning device, a filter belt cleaning device, a discharge device, an air control system, and an electrical control system.


It's on the basis of TLYL belt filter press,we absorbed the latest mechanical concentration and dewatering method in foreign countries and developed the new integrative concentrated, press filter and dewatering machine for sludge. Sludge fully reacts with coagulant will flow into material distributor in concentration part then dewatered along the movement of filter cloth under two-way guidance of mud rake and gravity. Reverse mechanism will transfer sludge to gravity dewatering area for further dehydration and in S-shape area pressed by roller with different diameters, sludge is again dehydrated between upper-lower filter cloth. Finally it will be scraped and cloth be cleaned during operation automatically. It features large productivity and high dewatering capacity and is applicable for treating sludge produced from tailings, ethanol residue, coal mud, paper mill , slaughter industry and car wash factories etc.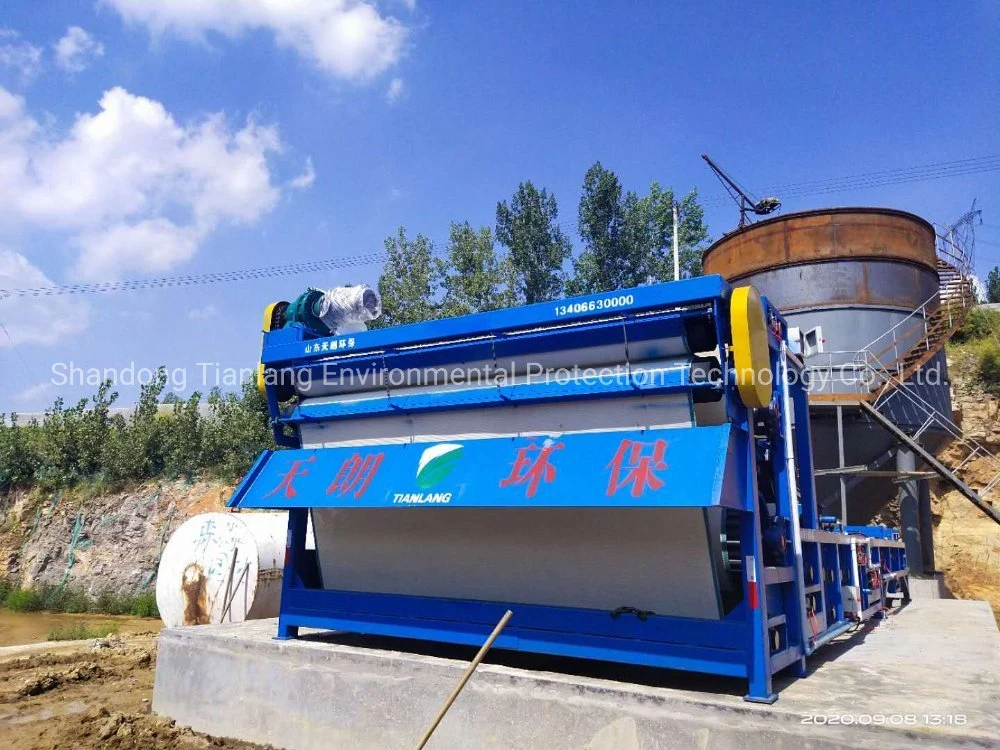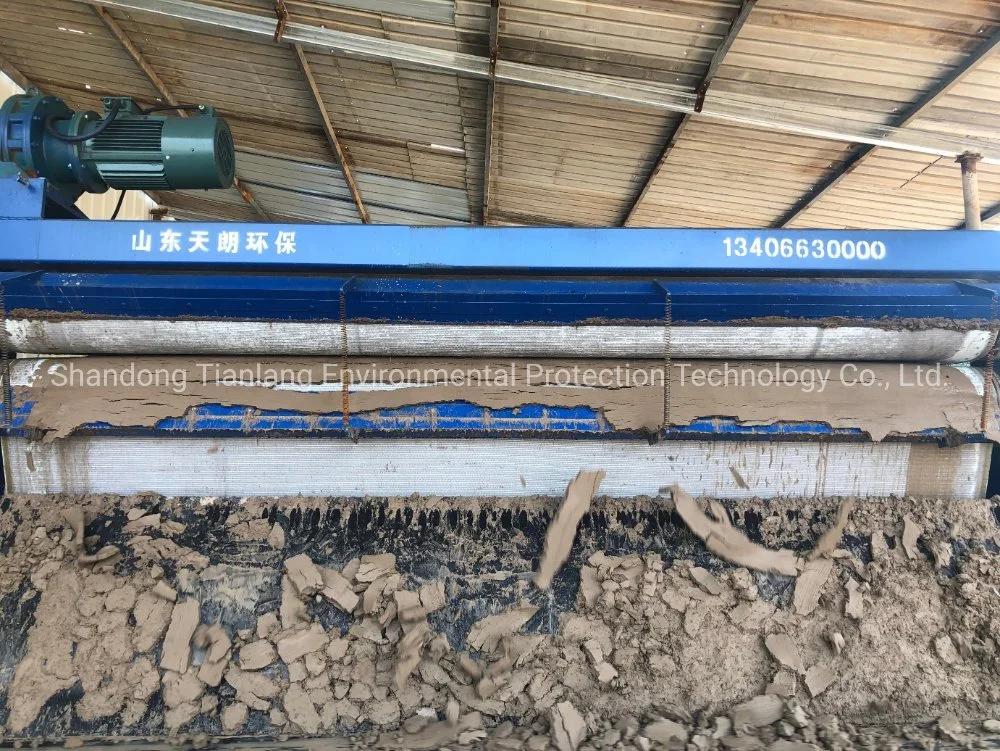 Structural Features
Belt filter press has compact structure, novel style, convenient operation and management, large processing capacity, low water content of filter cake, and good effect. Compared with the same type of equipment, it has the following characteristics:
1. The first gravity dewatering section is inclined, so that the sludge is as high as 1700mm from the ground, so that the height of the sludge in the gravity dewatering section is increased, and the gravity dewatering capacity is improved.


2. The gravity dewatering section is long, the total length of the first and second gravity dewatering sections is more than 5m, so that the sludge is fully dewatered and loses fluidity before pressing. At the same time, the gravity dehydration section is also equipped with special mechanisms such as reversal, through the "wedge" shape, "S" shape pressing and other functions to make the sludge filter cake obtain the lowest water content.




3. The first dewatering roller adopts a "T" type drain groove to quickly discharge a large amount of water after pressing, thereby improving the dewatering effect.




4. Automatic control device for filter belt deviation, etc., filter belt tension and filter belt moving speed can be adjusted freely, convenient operation and management.




5.

Adopt advanced frequency conversion speed regulation, which can effectively control the processing speed.
6,The closed body prevents muddy water and sand from entering the bearing.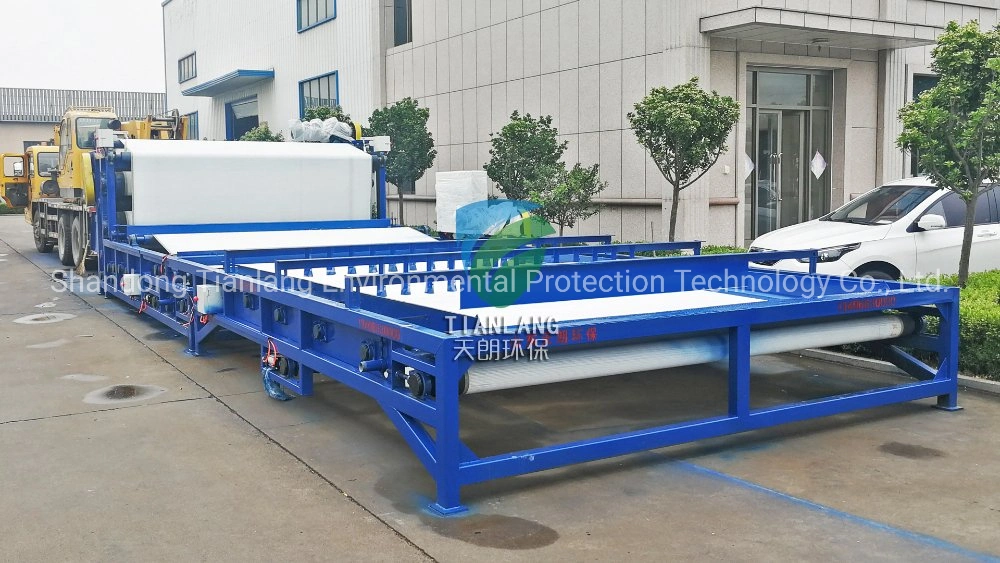 Technical Parameters Of Common Material Dehydration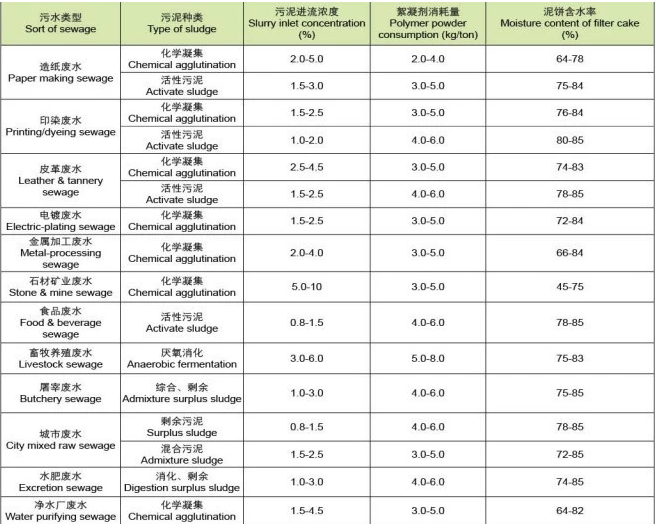 Adavantage of Our Product
1.Big processing capacity
2.The mud cake has lower moisture content and high dehydration efficiency
3.Equipped with automatic dosing device, saving manpower
4.Stainless steel anti-clogging nozzles are used to automatically spray filter cloth to effectively prevent clogging of filter cloth
5. The running speed of the filter belt is effectively controlled by the advanced frequency conversion system
6. There are cylinder offset adjustment devices on both sides to effectively prevent the filter cloth from running away.
7. Closed body, effectively preventing sand and muddy water from entering the bearing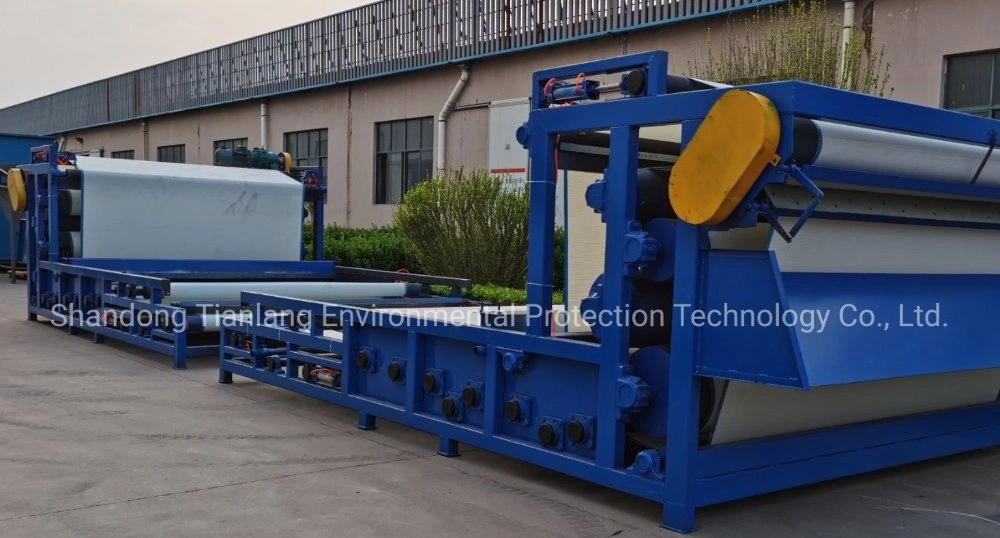 Technical data
There are several models you can choose.
| | | | | | | |
| --- | --- | --- | --- | --- | --- | --- |
| Model | Capacity (m3/h) | Power (kw) | Air compressor power(kw) | Bandwidth (mm) | Feeding concentration (%) | Pulping concentration(%) |
| TLYL500 | 0.5-4 | 0.75 | 1.1 | 500 | 3-8 | 25-40 |
| TLYL1000 | 3-6.5 | 1.5 | 2.2 | 1000 | 3-8 | 25-40 |
| TLYL1500 | 4-9.5 | 1.5 | 3 | 1500 | 3-8 | 25-40 |
| TLYL2000 | 5-13 | 2.2 | 4 | 2000 | 3-8 | 25-40 |
| TLYL2500 | 7-15 | 4 | 5.5 | 2500 | 3-8 | 25-40 |
| TLYL3000 | 8-20 | 5.5 | 5.5 | 3000 | 3-8 | 25-40 |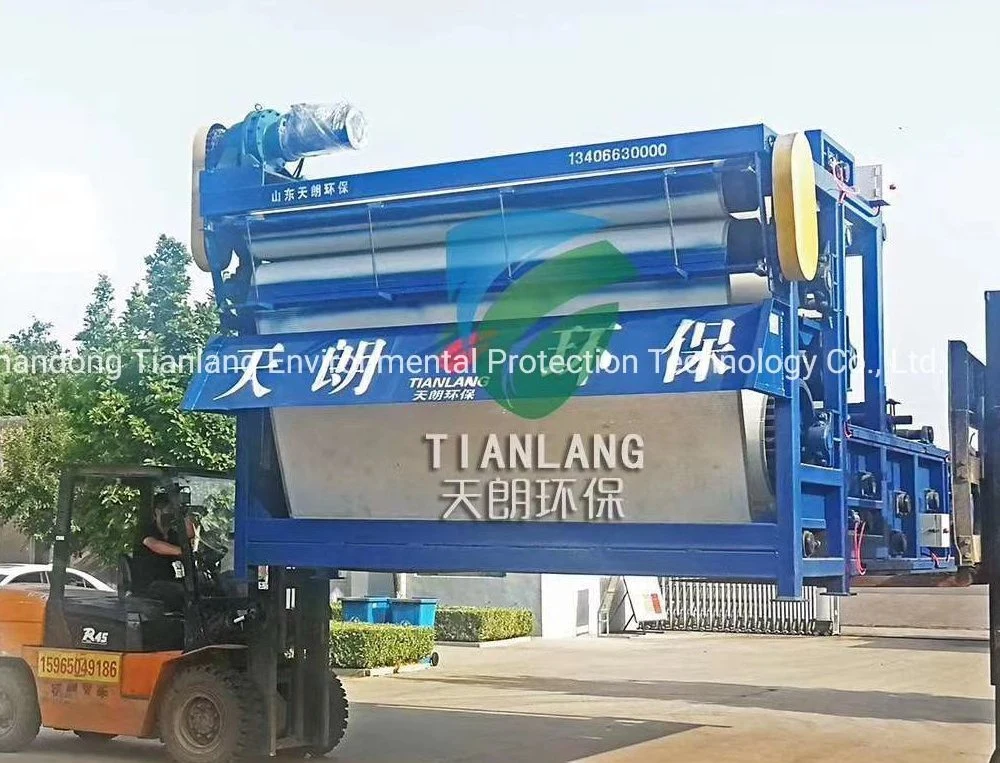 Company Information
Shandong Tianlang Environmental Protection Technology Co., Ltd. is a high-tech enterprise integrating environmental equipment production and R&D. The company is located in Zhucheng City, Shandong Province, with beautiful scenery. It has convenient transportation because it nears Qingdao and Rizhao seaport.
Covering an area of 80,000 m2, the company has advanced production line and production technology. By absorbing the advanced manufacturing concepts and sewage treatment experience of the same industry at home and abroad, it has cooperated with many well-known sewage treatment experts and universities. It has Strong non-standard design and manufacturing capabilities, perfect production testing equipment, complete manufacturing specifications, stable and reliable product quality.
As a production and research enterprise for environmental protection equipment, the company mainly develops and produces sewage treatment equipment, sludge dewatering equipment, waste gas treatment equipment, manure fermentation equipment and waste incinerator. Products are widely used in agriculture, aquaculture, petroleum, chemical, paper, pharmaceutical, food, starch, metallurgy, slaughter, printing and dyeing and other fields. There are dissolved air flotation machine, integrated sewage treatment equipment, MBR bioreactor, mechanical filter, disinfection equipment; belt filter press, plate and frame filter press, screw dewatering machine and waste incinerator nearly 100 kinds of products and accessories. trusted by the majority of users, it become the backbone of China's environmental protection industry.
In the face of fierce competition in the market, our company adheres to the business philosophy of ""Focus on quality, keen on innovation", continuously strengthens the product research and development, so that the product has a broader market.
Looking forward to the future, we will continue to provide more high-quality products and prompt and sincere service to customers, and supply environmental protection solutions to you.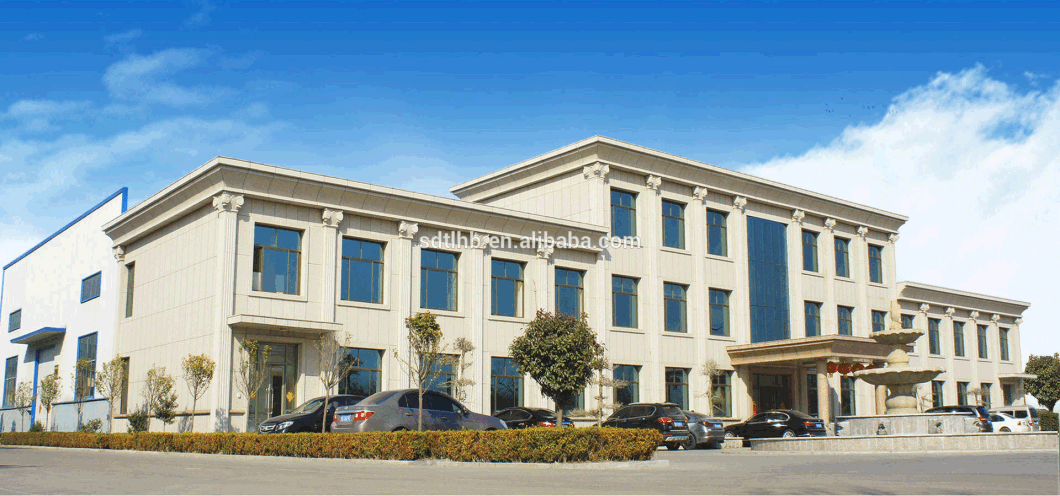 How We Do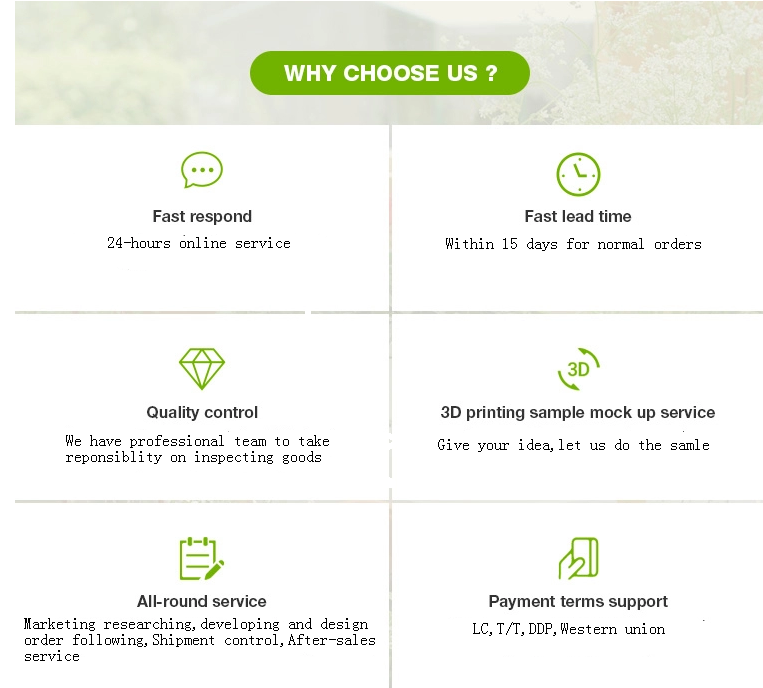 FAQ
Q:How to buy your idea products?
A:You can provide us the application site and daily treatment capacity (connect us for more details). We will recommend you the suitable model of belt filter press.
Q:How to pay?
A:TT and L/C are acceptable and TT will be more appreciated. 30% deposit before producing, 70% balance before loading by TT.

Q:What is the delivery time?
A:It depends on order quantities. Generally speaking, the delivery time will be within 3 to 4 weeks.

Q:How to keep your equipments from corrosion?
A:We use the world-famous paint, like SigmaCoatings,PainBow,etc. What's more, we paint strictly according to the standard process.