Integrated A2O Device
1.Brief Introduction of Integrated WWTP (A2O)
Design scheme adopting international mature technology system for biological treatment of wastewater treatment technology,
AO2 technology is used to process, the organic combination of traditional biochemical treatment process, water quality
purification was achieved by step unit operation, cover an area of an area small, small tank, comprehensive water is better
than the current national standards, low content of suspended solids, less equipment, simple process, automatic control,
stable and reliable running.
The overall energy consumption of the scheme is lower than that of the domestic equivalent type of treatment system.
The water quality is stable, the core parts have long service life, and the operation cost is low.
2.Process of Integrated WWTP (A2O)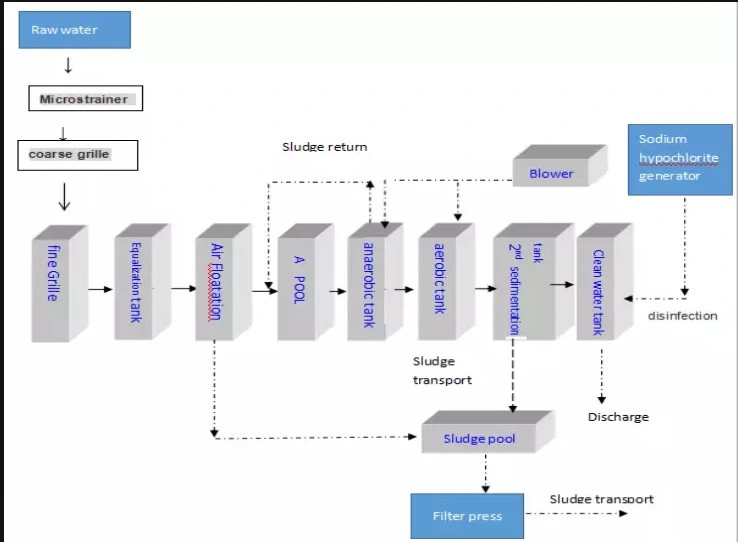 3. Specification of Integrated WWTP (A2O)
Item

WSZ-5

WSZ-10

WSZ-15

WSZ-20

WSZ-30

WSZ-40

WSZ-50

WSZ-60

WSZ-70

WSZ-80

Capcity (M3.d)

5
10
155
20
30
40
50
60
70
80

Anoxic tank

0.55*1
0.55*1.5
0.75*1.5
1.155*1.5
1*2
1.1*2
1.4*2
1.5*2.25
1.85*2.25
2.1*2.25

Oxic tank

1*1*1.5
1*1.5
2*1.5
2.1*1.5
2*2
2.1*2
2.5*2
2.8*2.25
3.4*2.25
4*2.25

Sedimentation

tank

0.5*1
0.45*1.5
0.75*1.5
1*1.5
0.9*2
1*2
1.25*2
2.8*2.25
3.4*2.25
4*22.25

Sludge tank

0
0.5*0.75
0.75*0.75
0.75*0.75
0.7*1
0.8*1
0.9*1
0.9*1.15
1.15*1.15
1.1*1.15

Clean water tank

0.45*1
0.5*0.75
0.75*0.75
0.75*0.75
0.7*1
0.8*1
0.9*1
0.9*1.15
1.15*1.15
1.1*1.15

Blower

Model

2HBH320H36

2HBH520H36

Qty

2
2
2
2
2
2
2
2
2
2

Power

1.3
1.3
1.3
1.3
1.3
1.3
2.2
2.2
2.2
2.2

Pump

Module

50WQ2-10-0.75

50WQ6-10-0.75

STP

Volume

L(m)
2.5
2.5
4
5
4.6
5
6
6.5
8
9
W(m)
1
1.5
1.5
1.5
2
2
2
2.25
2.25
2.25
H(m)
1.5
2
2
2
2
2
2.5
2.5
2.5
2.5